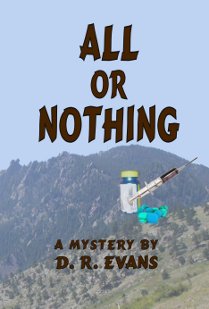 All or Nothing is published by Engine House Books with the ISBN 978-1-936211-01-2.
All or Nothing is available as a softcover or an e-book. You should be able to order the softcover from your favorite bricks-and-mortar book shop or online from:
For prices from multiple online stores, you can
search at Bookfinder4u
.
The recommended retail price is $17.95.
All or Nothing is also available in an Economy Edition, priced $8.95.
An electronic version of All or Nothing is available from:
as well as other online stores.
The recommended price of the electronic version is $3.50. Some online retailers charge more, though, so it pays to shop around if you can do so for your device.
---
The story
In Pinetree, a small ski town located high in the Colorado Rockies, Matthew Chambers begins a day just like any other. A lawyer, he works way through the day's usual collection of appointments, breaks for lunch at the local Rotary club, and then closes his one-man practice early in order to have dinner with Pinetree's mayor and his wife. It is the last meal of his life. Arriving safely at home, he suffers a hypoglycemic attack. And before the diabetic lawyer can find the roll of candies that he always keeps at hand, he laspes into a coma from which he never recovers. His only living relatives are a pair of estranged cousins: the brother a software millionaire living in England, and his sister a detective living in Australia and recovering from a disastrous relationship that, after many years, has finally fallen apart. The brother and sister both come to Colorado and discover that there are questions about Chambers' death, which may not have been the accident it appeared.
All or Nothing
is as much about relationships as the underlying mystery of the lawyer's death. The relationship between brother and sister who have not spoken for nearly two decades. The relationship between the maverick female Australian detective and the play-it-by-the-book detective assigned to the case by the Pinetree police department. The relationship between the dead Matthew Chambers and the brilliant judge who is addicted to gambling. The relationship between the doctor and the man who had successfully defended his wife's killer. Part cozy mystery, part romance,
All or Nothing
is designed to keep the reader guessing until the very end.
---
Sample
You may like to read a sample in PDF format.