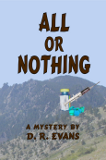 All or Nothing
by
ISBN: 978-1-936211-01-2 Category: Fiction, Mystery Softcover, 250 pages, 6" x 9"; second edition Recommended retail price: $17.95
---
In the ski resort of Pinetree, Colorado, a middle-aged lawyer collapses and dies. At first, the explanation seems obvious. There are just a couple of loose ends that don't quite make sense. But the more the police and his next of kin try to build a picture of how Matthew Chambers died, the more it seems like something is seriously wrong somewhere. In All or Nothing, D. R. Evans brings his knack for astute characterization to the mystery genre, giving us a novel in which death is the background against which plays a tale of reconciliation and romance.
---
All or Nothing is available from libraries and online and bricks-and-mortar book stores. The following links may be useful if you wish to purchase a copy online: All or Nothing is physically produced using print-on-demand technology, it may be available directly from a print-on-demand printer or an online bookstore in your country at a price that is lower than the price at the outlets listed above.
---
---

This page conforms to all current web standards published by the World Wibe Web Consortium. In particular, it has been verified as valid HTML 4.01 and as valid CSS, and should display and function correctly in all standards-compliant browsers.


---