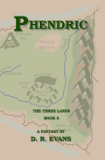 Phendric
by
ISBN: 978-0-578-01960-4 Category: Fiction, Fantasy Softcover, 282 pages, 6" x 9"; second edition Recommended retail price: $19.95
---
In this third book set in the Three Lands of Abuscân, Catherine returns to Palindor along with her middle-aged son Michael and her rebellious teenaged grand-daughter, Diana. The book intertwines the stories of Catherine, Michael and Diana, along with many other characters from the earlier books, as well as several new ones. For the first time we meet Phendric, the grandson of Drefynt, of whom it was prophesied long ago that he would be "great and saving ", and Toldwyn, long dead and now brought back to face a final challenge in the dungeons of the castle in Carn Toldwyn. The story takes place not only in Palindor, but also in Malthazzar's realm, Sheol, culminating in a terrifying ordeal in the Pit itself, from which there can be no escape.
---
Phendric is available from libraries and online and bricks-and-mortar book stores. The following links may be useful if you wish to purchase a copy online: Phendric is physically produced using print-on-demand technology, it may be available directly from a print-on-demand printer or an online bookstore in your country at a price that is lower than the price at the outlets listed above.
---
---

This page conforms to all current web standards published by the World Wibe Web Consortium. In particular, it has been verified as valid HTML 4.01 and as valid CSS, and should display and function correctly in all standards-compliant browsers.


---