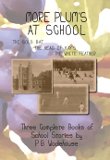 More Plum's at School
Three books of school stories by
If you are unfamiliar with the comic genius of P. G. Wodehouse, we suggest you view this clip from the BBC.
This is an
Engine House Classic
. It has no ISBN. Category: Fiction, Humor Softcover, 404 pages, 6" x 9"; first edition Price: $14.75
---
This volume contains the complete text of three books of school stories by the great British humorist P. G. Wodehouse.
The Gold Bat
The Head of Kay's
The White Feather
---
More Plum's at School
is available only from Engine House Books through
Lulu
.
---
All our hard-copy titles with an ISBN are in the standard book-distribution system and should be available from online and bricks-and-mortar stores.
All our hard-copy titles, regardless of whether they have an ISBN, are available
at our store on lulu.com
.
---

This page conforms to all current web standards published by the World Wibe Web Consortium. In particular, it has been verified as valid HTML 4.01 and as valid CSS, and should display and function correctly in all standards-compliant browsers.


---