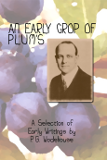 An Early Crop of Plum's
a selection of early pieces by
If you are unfamiliar with the comic genius of P. G. Wodehouse, we suggest you view this clip from the BBC.
This is an
Engine House Classic
. It has no ISBN. Category: Fiction, Humor Softcover, 300 pages, 6" x 9"; first edition Price: $12.95
An Early Crop of Plum's
is also available
as an e-book
.
---
This book contains a selection of early pieces by the English humorist P. G. Wodehouse, comprising thirteen short articles, seventeen short stories and two poems.
Articles

An Unfinished Collection
A Plea for Indoor Golf
In Defence of Astigmatism
My Battle with Drink
My Life as a Dramatic Critic
On the Writing of Lyrics
Photographers and Me
Some Aspects of Game-Captaincy
The Agonies of Writing a Musical Comedy
The Alarming Spread of Poetry
The New Advertising
The Past Theatrical Season
The Secret Pleasures of Reginald

Stories

A Sea of Troubles
At Geisenheimer's
Bill the Bloodhound
Black for Luck
Crowned Heads
Disentangling Old Duggie
Extricating Young Gussie
Jeeves Takes Charge
One Touch of Nature
The Making of Mac's
The Man with Two Left Feet
The Mixer - I
The Mixer - II
The Romance of an Ugly Policeman
Tom, Dick, and Harry
When Papa Swore in Hindustandi
Wilton's Holiday

Poems

Damon and Pythias - A Romance
The Haunted Tram
---
An Early Crop of Plum's
is available only from Engine House Books through
Lulu
.
---
All our hard-copy titles with an ISBN are in the standard book-distribution system and should be available from online and bricks-and-mortar stores.
All our hard-copy titles, regardless of whether they have an ISBN, are available
at our store on lulu.com
.
---

This page conforms to all current web standards published by the World Wibe Web Consortium. In particular, it has been verified as valid HTML 4.01 and as valid CSS, and should display and function correctly in all standards-compliant browsers.


---