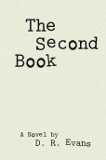 The Second Book
by
ISBN: 978-1-936211-04-3 Category: Literary Fiction Softcover, 199 pages, 6" x 9"; first edition Recommended retail price: $15.95
---
A quarter of a century ago, Andrew Barclay wrote a best-selling novel. He has never produced another book. Now a young PhD student from Los Angeles has tracked down the recluse to a backward town in a third-world Central American country. Looking for material for her thesis, she visits the writer; but instead of the brilliant author of memorable prose she finds an aging alcoholic whose twenty-five-year effort to produce another novel has generated nothing he deems worthy of publication. But Barclay is oddly certain that despite all his failures one day he will produce his second book.
---
The following links may be useful if you wish to purchase a copy online: The Second Book is physically produced using print-on-demand technology, it may be available directly from a print-on-demand printer or an online bookstore in your country at a price that is lower than the price at the outlets listed above.
---
---

This page conforms to all current web standards published by the World Wibe Web Consortium. In particular, it has been verified as valid HTML 4.01 and as valid CSS, and should display and function correctly in all standards-compliant browsers.


---