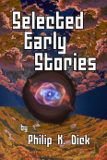 Selected Early Stories
by
This is an
Engine House Classic
. It has no ISBN. Category: Science Fiction, Short Stories Softcover, 294 pages, 6" x 9"; first edition Price: $12.50
---
This one-volume collection contains a selection of eleven early stories from one the greats of science fiction:
Beyond Lies the Wub
Beyond the Door
The Crystal Crypt
The Defenders
The Eyes Have It
The Gun
Mr. Spaceship
Piper in the Woods
Second Variety
The Skull
The Variable Man
---
This edition of
Selected Early Stories
is available only from Engine House Books through
Lulu
.
---
All our hard-copy titles with an ISBN are in the standard book-distribution system and should be available from online and bricks-and-mortar stores.
All our hard-copy titles, regardless of whether they have an ISBN, are available
at our store on lulu.com
.
---

This page conforms to all current web standards published by the World Wibe Web Consortium. In particular, it has been verified as valid HTML 4.01 and as valid CSS, and should display and function correctly in all standards-compliant browsers.


---